Cantù market tour and fresh pasta cooking class
5.0
Local market tour, hands-on cooking class followed by lunch or dinner with the recipes prepared during the class.
Your menu
Polenta balls with luganega (typical sausage)
Fresh Pasta: tagliatelle or ravioli
Pan de Mej: Corn cookies with cream
This experience consists in a visit to the city market and a cooking lesson of typical Italian recipes.
You already know that the secret of every good dish is the ingredients, for this reason the cooking class will begin with a visit to the local market where the Cesarina will show you the typical local products and she will buy with you the ingredients for the recipes that you will prepare together. You will be welcomed with a typical Italian aperitivo at the Cesarina's home, a beautiful penthouse with breathtaking views of the Swiss Alps, Como and Monte Rosa. During the lesson you will prepare an appetizer, a fresh pasta dish and a dessert.
The Cesarina will show you how to prepare fresh pasta and how to decorate your desserts.
Finally, we will have lunch together!
Reviews
Cesarine - Cantù market tour and fresh pasta cooking class
We spent a lovely rainy day with Carolina and her family learning to make pasta and tiramisu. The experience was more than just a cooking class…we also were able to learn many things about the region, the culture, and Italy's cuisine. Sitting down with the family to enjoy the food we made was a highlight. We look forward to sharing our new skills with family at home.

Kerry and Reilly

 - 

January 2023

Best cooking class with the best hosts. Our takeaway from this was uncasing the sausage to cook! They are very hospitable and kind. Beautifully decorated kitchen and home. Wonderful experience overall.

angelique aladray

 - 

October 2022

My friends and I from New Jersey had *the best* time with Carolina, Simone, their dad, and their pug Tyrion! They welcomed us into their home and made sure we felt comfortable and had fun. You can really tell how passionate and knowledgeable Carolina is sharing her love for the cuisine and being so patient with us. Simone was lovely as well, would highly highly recommend for anyone looking to make pasta in the Lake Como area.

Trixie Jose

 - 

October 2022

My friends and I went on a trip to Lake Como for my birthday and we decided to take a cooking class. Luckily we had this wonderful family teach us how to cook amazing pasta and make tiramisu. From start to finish it was an amazing experience, we truly felt at home while cooking and dining with them. All of us has so much fun and on top of that we learned so much about the culture and how much it takes to create pasta from scratch. Carolina and her family were so welcoming, it felt as if we were with people we knew for so long. The conversations and the food were definitely a core memory I will have for the rest of my life. Thank you Simone, Carolina, Antonio, and Tyrion! for such an amazing time.

Kevin Estor and Friends

 - 

October 2022

We had the best morning with Carolina and her lovely family. They were very generous and made us feel comfortable in what turned out to be a private class. It was great to learn cooking tips from her and hear about the history of the area/food we were making. The conversations were great and the food turned out wonderfully. The view from her home is also beautiful. It was a highlight from our trip and I would absolutely recommend! If we are back in the Como area someday, I will definitely book a class with Carolina again.
€189.00 per guest
€94.50 per child
Where
You'll receive the exact address after the booking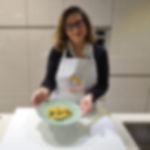 Carolina
Cesarina from 2020
Location: Cantù    Languages: Italian and English
"Cooking is my greatest passion: when I am tired or thoughtful I go to the stove, because this is the only way I know to relax. I love to receive friends and acquaintances and offer them traditional Lombard dishes, but I also like to surprise them with some typical recipes from Campania, my region of origin. My house is large and welcoming, and enjoys a splendid view of Como, the Swiss Alps and Monte Rosa."
Experiences you may like
FAQ
Families and solo travellers welcome