Pizza , Focaccia and .... Tiramisu !
5.0
Small group hands-on cooking class with pizza and tiramisu, followed by lunch and dinner with the recipes prepared during the class
Shared Experience
In a shared experience, other guests may be added, up to the maximum number of people that the host can accommodate. Therefore you may have the opportunity to share your passion for good food and cooking with other people from all over the world!
Your menu
Home made pizza and focaccia , what a passion !
Soft , tasty , fragrant ! We will prepare the doughs together and room for imagination for the fillings. We will start with Pizza Margherita , queen of tradition, to follow other flavors ... we decide them together also following the seasonality. I am sure you will fall in love with Focaccia , already delicious with extra virgin olive oil and rosemary, but irresistible with tomatoes , potatoes and more ! What are you waiting for ? I am ready. I'm going to turn on the oven ...
Reviews
We had the absolute BEST time with Giulia! Our class was easily our favorite part of our trip and a great way to start our time in Venice. Giulia is not only a wonderful cooking teacher but she taught us a lot about Venetian/Italian customs and the city. We feel like we left Giulia's home with a lifelong friend and hope to visit her again. This class is worth every cent!

Marisa & Jeff - November 2023

Dearest Guilia, Brian & I had the most fun in your beautiful home & with you. You are so warm, kind and welcoming! Your cooking skills are so delicious! We learned so much from you! Thank you for the pics. and recipes. Take care and if we ever make it back to Venice we will be sure to contact you. 💞

Yvette - October 2023

What a special experience to come into someone's house as strangers and leave as friends! Our host and instructor Giulia was amazing! No only did she made us feel at home, but she shared her family recipe with us and explained how the recipe came to be. She also shared these recipes and another one based off our conversation about desserts with us minutes after the class. More importantly, Giulia gave us the confidence to make the recipes again at home. This is an experience my husband and I will never forget! Grazie mille, Giulia!!

Giulia  - November 2023

Giulia was an excellent host for her Venetian dining experience. The food was delicious, and Giulia was very informative and entertaining. Her home was warm and welcoming. We would recommend to any that are looking to experience a truly authentic meal in Venice.

John - October 2023

Hubby and I could not have enjoyed our time with Giulia more. Fantastico!

Chery Moyer - October 2023
€149.00 
per guest
(€74.50 

per child)
€149.00 per guest
€74.50 per child
Where
You'll receive the exact address after the booking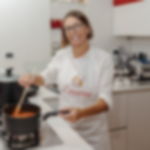 Giulia
Cesarina from 2018
Location: Venice    Languages: English and Italian
Venice is a unique place: floating on a lagoon with a network of thousands of canals. Rich in history and culinary tradition, it is a city of art, forged from different pasts and cultures, with profound ties to both the land and the sea. The ancient city is also home our Cesarina, Giulia. Her cooking reflects her regional and family traditions made even more unique by a modern twist with her passion and expertise in local and seasonal ingredients. Giulia: "For me cooking is not a journey through youth but rather onwards into maturity. My childhood was spent in my grandmothers' kitchens with the aromas and flavours of two different Italian cultures; Born in Turin with mother from Mantua and a Venetian father, I grew up around my grandmother in Mantua, with the scent of pumpkin, rolling homemade pasta, and in Venice with the sharing culture of Cicchetti (aperitivo finger food). Polenta, however, was common to both regions although in Mantua it had a yellow tinge and stark white colour in Venice".
Experiences you may like
FAQ
Families and solo travellers welcome
What are the best cooking classes in Venice?
What are the best home restaurants in Venice?
What are the best market tours in Venice?