The sweet and sour flavors of my kitchen
5.0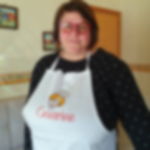 Spoken languages:  Italian and English
Dining experience: take a seat and enjoy an authentic Italian meal with a local Cesarina
Your menu
Sicily has been a land that has had in past centuries many dominations that have left their flavors in our cuisine..one of them is sweet and sour! I am going to let you taste some dishes where sweet and sour is the protagonist! We will start with eggplant caponata. Then I will prepare pasta alla norma, fried sardines with sweet and sour onion, and to finish a very sweet orange jelly.
Reviews
Cesarine - The sweet and sour flavors of my kitchen
If I could give 6 stars I would! Francesca is a wonderful host and cook! She treated us to a wonderful home cooked meal which consisted of her family's eggplant Parmesan recipe, handmade guitar spaghetti with homemade cherry tomato sauce, orange gel and strawberries and local Nero d'avola wine. She taught us all about Sicilian cooking and even gave us a pasta making lesson at the end. This experience is a once in a lifetime experience in a beautiful private Sicilian kitchen with the sweetest lady you could imagine. Thank you Francesca for you warmth and hospitality

L'esperienza è partita in salita perché non arrivavano dal sito le informazioni su durata, modalitá ecc, ma poi ci siamo sentite direttamente con Francesca che ci ha guidati nel piccolo percorso. Molto sorridente, gentile, professionale, abbiamo passato una bellissima ora insieme e prodotto dolci in gran quantità, e ottimi! Ci ha accompagnati nel fare dolci che non avevamo mai fatto prima, e sono venuti buonissimo grazie alle sue istruzioni. Quindi, divertente, efficace e piacevole. Molto suggerito!

Marcella e Andrea

 - 

March 2023

Un'esperienza molto piacevole con la cuoca Francesca!! Cuoca eccellente, disponibile e di ottima compagnia. Mille grazie per l'esperienza fantastica.

È stata la mia prima esperienza con la pasta fatta in casa, Francesca è stata bravissima e molto professionale. Abbiamo passato una mattinata davvero piacevole, divertente e produttiva. Francesca è bravissima a spiegare, la consiglio vivamente a tutti. Grazie e alla prossima.

Oggi abbiamo tenuto la nostra prima lezione di cucina italiana presso Francesca Casa nella sua casa di Bagheria, a Palermo, in Italia. Siamo stati accolti da Francesca in una bellissima cucina allestita perfettamente per le lezioni. Abbiamo iniziato preparando il tiramisù. Abbiamo fatto l'impasto per fare la pasta l'abbiamo fatto con una macchina per la pasta. Abbiamo anche fatto i Ravioli di spinaci e ricotta. Le lezioni di insegnamento di Francesca sono molto basilari e semplici. Abbiamo apprezzato l'intera lezione di cucina e la cena che abbiamo preparato da zero, deliziosa!

Josie Ippolito

 - 

October 2022
€95.00 per guest
€47.50 per child
Where
You'll receive the exact address after the booking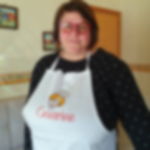 Francesca Maria
Cesarina from 2021
Location: Bagheria    Languages: Italian and English
Francesca lives in Bagheria, the 'city of villas', a land kissed by the sun and the sea breeze. Our Cesarina brings Sicilian recipes to the table, rich in contrasts, where sweet is combined with salty, sweet and sour is used a lot and dried fruit is perfect on meat, fish and vegetables. "All this is the result of the cultures that have passed through our land. My cuisine is linked to the traditions of both my area and my family. I only use local products and I hope to be able to pass on to my guests all the passion and love that I put when I cook."
Experiences you may like
FAQ
Families and solo travellers welcome