Painting with Food: Creating Special Dishes
5.0
Hands-on cooking class with bruschetta, 3 recipes (starter, pasta and dessert) followed by an Italian aperitivo and a 3-course menu with the recipes prepared during the class.
Your menu
Eggplant meatballs
Scialatielli with zucchini and courgette flowers
My pastiera in a glass
Transforming the dish into a painting is an easy objective for those who love to cook and put their passion throughout the preparation.
To transform a dish into an impressionist painting, full of natural and never dull colors, you have to choose fresh ingredients and cook them in the most suitable way so that they do not lose their tones and nuances. Nature is the color palette and you will be the painters. The aubergine will be the purple, tomato the red, basil the green, the green and yellow of the courgettes and their flowers and all the spring colors of the pastiera. The plate will be the canvas: all you have to do is start painting!
Reviews
Cesarine - Painting with Food: Creating Special Dishes
Emanuela was an amazing host and we are so thankful to her for sharing her recipes and home with us!!

It was truly a special and remarkable evening. We met Emanuela and Roberta in Naples. They showed us the authentic market and picked up some goodies for us to cook at her apartment. Once there, we made homemade pasta, bruschetta and strawberry tiramisu which was outstanding. We only had one night in Naples and it was a perfect blend of sight seeing and immersing ourselves in Italian culture! Thank you Emanuela for your hospitality and warmth.

A unique chance to dive into neapolitan traditional cuisine in a beautiful house with a stunning view on the gulf of Napoli. Emanuela is the perfect host and the best chef ever. We as local people tasted traditional recepies cooked by Emanuela, much better than we will ever be able to do

Un po' titubanti abbiamo accettato la proposta del caro amico Gianni di provare le Cesarine : "ma come andiamo a cenare a casa di una che non conosciamo? " Location parco Matarazzo, uno dei luoghi più esclusivi e panoramici di Napoli. Effettivamente si prova un po' di imbarazzo ad entrare da "clienti" a casa di altri... Ma la semplicità con cui ti accoglie Manuela aiuta a rompere subito il ghiaccio, complice forse l'aroma diffuso di eucalipto e la semplice eleganza della maison. Ti sembra di essere subito a casa di amici. Dopo avere ammirato il panorama mozzafiato (ma come, non sei napoletano? Non lo conosci già??? No, ogni volta è come la prima volta... ) , cominciamo a scaldare i motori: cipolline in agrodolce, tocchetti di formaggio e un delizioso prosecco (cz, mi sono scordato di fotografare l'etichetta!) danno solo una piccola idea di quello che ci aspetterà... Trasferiti dai divani al tavolo, Manuela e Maria subito ci fanno provare le polpette con le zucchine: fritte ad aria, delicatissime e molto molto intriganti; ovviamente proveremo a rifarle, con scarsi risultati. L'atmosfera è piacevole: sarà per l'affiatamento dei commensali, ma il fatto di essere in un tavolo "casalingo" e non in un ristorante aiuta. Aiuta la chiacchiera, gli spazi sono larghi, i movimenti di piatti e bicchieri sono naturali, "casalinghi". La presenza delle ospiti è quasi una "assenza", tanta è la libertà che ti lasciano. Ma poi arriva Lei. La Genovese. Silenzio. Estasi. Goduria. Il primo che commenta: "questa è meglio di quella di tua madre" (domani divorziano, ma la verità è quella). Persino Francesca, che odia le cipolle, deve arrendersi ed ammettere la sublimità di questo piatto. Delicatissima, carne tenerissima, cipolle presenti ma non invadenti, la Mamma di tutte le genovesi. Ma cosa può arrivare dopo si tanta bellezza? Si può superare quelLa Genovese? Forse sì. La Parmigiana. Non avevo idea che la Parmigiana di Manuela fosse diventata un sito riconosciuto dall'UNESCO, ma stasera ho capito perché. Le melanzane si perdono, si sublimano, si amplessano nel pomodoro e provola in un orgasmo di sapori e napoletanità. Donatella chiede il bis e dobbiamo mantenerla per il tris. Degna conclusione della cena è un tiramisù al limoncello, leggero e delizioso. Gli fanno compagnia un ottimo nocino e liquore di zabaione (vi prego cambiate la sigillatura!) Che ci ricordano gli antichi liquori dei nonni... Ora è difficile lasciare questa casa Manuela e Maria sono perfettamente integrate nel gruppo e ovviamente, come si dice "siamo usciti a parenti". Quindi esperienza positiva? Assolutamente sì. Ma come nessuna critica? Da amante della musica di sottofondo avrei gradito qualche playlist di easy- jazz+ lounge- Einaudi. Prezzo? giusto. Sono incluse atmosfera compagnia non riproducibili in un ristorante classico.

Casa bellissima. Cibo eccellente. Manuela molto simpatica
€129.00 
per guest
(€64.50 

per child)
€129.00 per guest
€64.50 per child
Where
You'll receive the exact address after the booking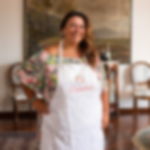 Emanuela
Cesarina from 2018
Location: Naples    Languages: Italian and English
Nestled in the gulf, Naples wakes up to views of its splendid sea every day. The same sea which the large, green balcony of our Cesarina's house overlooks, and which offers a breathtaking panorama.

The house where Emanuela is hosting us is spacious, furnished with traditional, refined in taste and flooded with light. Emanuela's passion for the culinary arts goes back to when she was still a small child, peeking into "mama's" kitchen. Our Cesarina is a clever mosaic: her intuition for the accompaniments and perfect combinations has made her an expert ​​in the art of preparing good food. Flavors and fragrances are skillfully put together to tell the history and traditions of her region.
Experiences you may like
FAQ
Families and solo travellers welcome