Traditional Cooking Class in Pesaro
5.0
Cooking class: learn how to cook Italian recipes and taste the dishes prepared during the class
Your menu
Fraud house sage
Tagliatelle (homemade pasta) with peas
Custard with strawberry compote
Let's bring the scents and flavors of the home garden to the table!
A traditional home-grown menu that includes an appetizer, an entrée and dessert.
We will pick giant leaves from the aromatic garden in the home garden and after preparing the batter together, we will fry them and enjoy them with a local sparkling wine.
We will then prepare noodles like "back in the day" by putting our hands to pasta with flour and eggs from our "happy hens!" We will dress them with a ragout of peas from our garden.
We will conclude by preparing custard with strawberry compote, a delicacy!
Reviews
Cesarine - Traditional Cooking Class in Pesaro
We spent a wonderful evening at Silvanas where we were met with the greatest hospitality and kindness from Silvana, her husband and her daughter. It is definitely one of our best experiences in Italy ever. Also Silvana is an absolutely wonderful cook, and the dinner and wine was excellent. But the company, talking and laughing with Silvana and her family was the very best part of it. We have to go back and visit Silvanas again. And next time we are going to learn how to make tortellini. Our very best recommendation to Silvana.

Henriette & Lars

 - 

July 2022
€129.00 per guest
€64.50 per child
Where
You'll receive the exact address after the booking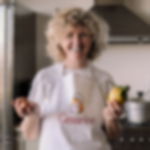 Silvana
Cesarina from 2020
Location: Pesaro    Languages: Italian and English
"I like everything that belongs to nature, and in my free time, I dedicate myself to the cultivation of minor fruits, olives, and vegetables, in full respect of the rhythms of the earth, and with a totally natural approach. I strongly believe that a large part of our well-being is related to the quality of the food we eat. My house in the hills is located 15 minutes from Pesaro, in a relaxing place where reconnection with the earth comes to life thanks to the rustle of the leaves of the 500 olive trees that surround it. My table is consequently characterized by simple foods, mainly made with the catch of the day from the Adriatic Sea, and accompanied by what our land offers us."
Experiences you may like
FAQ
Families and solo travellers welcome