Welcome to Napoli!
Naples knows how to welcome you with open arms. Step into home kitchens overflowing with fresh market delights from land and sea. Abundance is everything: take a seat and indulge in fried seafood and second helpings of spaghetti con le vongole, breathing in the heady aroma of rum babà and sfogliatelle. Buon appetito!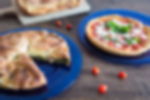 All the experiences
Invisible test block for SSR
We want to create real connections between travellers and locals in Italy.
Our national community of home cooks welcome travellers into their own homes for authentic culinary experiences. With us, you'll discover long-lost family recipes, market-fresh ingredients and unforgettable cooking secrets. This is the most authentic way to learn what Italian food is all about.
Every host in our community is carefully selected for their cooking and hosting excellence, so you're in good hands. Pull up a seat and enjoy a truly Italian welcome.
Meet our hosts