Welcome to Bari!
As you stroll around the alleys of Bari Vecchia, you will be overwhelmed by the scents of the city's fresh produce, a cradle of Mediterranean cuisine. A dining experience at a local family home is the best way to discover the traditions, hidden spots and authentic flavours of Bari.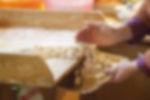 All the experiences
Invisible test block for SSR
We want to create real connections between travellers and locals in Italy.
Our national community of home cooks welcome travellers into their own homes for authentic culinary experiences. With us, you'll discover long-lost family recipes, market-fresh ingredients and unforgettable cooking secrets. This is the most authentic way to learn what Italian food is all about.
Every host in our community is carefully selected for their cooking and hosting excellence, so you're in good hands. Pull up a seat and enjoy a truly Italian welcome.
Meet our hosts