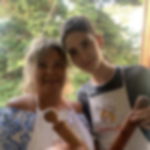 Spoken languages:  Italian and English
Small group hands-on cooking class with pizza and tiramisu, followed by lunch and dinner with the recipes prepared during the class
Your menu
Pizza margherita
Red and white fried pizza
Tiramisù with coffee
This experience is called "A pizza cu 'a pummarola 'ncoppa" that in Neapolitan means "A pizza with tomato sauce on top". It's a verse from the famous song "'a pizza" and I chose it because this is an authentic, Italian cooking class. The Margherita is famous worldwide: the red of the tomato, the white of the mozzarella, and the green of the basil pay tribute to the Italian tricolor and Queen Margherita of Savoy for whom a famous Neapolitan pizzaiolo invented it.
Besides oven-baked pizza, fried pizza is another characteristic dish of Neapolitan cuisine, especially in the variant known as "Montanara". In this cooking course, I'll teach you how to prepare both: so, are you ready to get your hands doughy?
Reviews
There are no reviews yet.
€179.00 
per guest
(€89.50 

per child)
€179.00 per guest
€89.50 per child
Where
You'll receive the exact address after the booking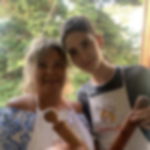 Laura & Ettore
Cesarina from 2022
Location: Sorrento    Languages: Italian and English
Sorrento "land of the sirens" is the jewel of the Sorrento Coast: it has always been an ideal holiday destination for the mildness of the climate and the beauty of its breathtaking landscapes. A few steps from the historic center, there is the house of Ettore. His passion for cooking and his love for food are the result of the culinary traditions handed down from the recipes and the passion for good food of his grandparents, who taught that cooking means celebrating a magical ritual, made of love for traditions, but also of experimentation, curiosity, intuition... The kitchen for Ettore is a creative laboratory made of unique flavors and Mediterranean scents that blend together to tell - between tradition and innovation - the gastronomic history of a territory with extraordinary resources.
Experiences you may like
FAQ
Families and solo travellers welcome