Ricotta crepes, surprise ravioli and i'gnudi
5.0
Pasta Lovers Cooking class followed by lunch or dinner with the recipes prepared during the class.
Your menu
I'gnudi
Ricotta and spinach ravioli with butter and sage
Crespelle
I'll be waiting for you to prepare excellent vegetarian pasta dishes together, which you can repurpose in your dinners with friends, telling the stories of the different recipes: the crespelle of Caterina dè Medici, known as early as the 14th century, gnudi and ricotta and spinach ravioli with butter and sage.
Reviews
Cesarine - Ricotta crepes, surprise ravioli and i'gnudi
Persona squisita e alla mano, oggi mi ha insegnato gli gnudi, le crespelle di Caterina de Medici e i tortelli. Mi sono divertita tantissimo e mi ha insegnato un sacco di trucchetti. Proprio un piacevole pomeriggio!

Donatella and her family were the most welcoming hosts, eager to ensure our experience was enjoyable from the moment we walked through the door. Their home and hospitality was so warm and charming. So much learning and laughter was shared. Such a wonderful evening!

The Prehn Family

 - 

March 2023

Donatella was amazing!! Her apartment was warm and inviting from the start. She made us feel like old friends. We attended the class with our two college age kids, plus one of their friends. It was the perfect activity and the perfect lunch! We learned a lot food and real life in Florence and came away with a couple of new ideas for pasta recipes. Highly recommend Donatella!!!

My family enjoyed our evening with Donatella and her family. Dinner was delicious and we enjoyed good conversation. Very friendly.

Donatella and her family were wonderful hosts. Her food was superb, chosen with care and beautifully cooked. It was a thoroughly enjoyable evening.
€145.00 per guest
€72.50 per child
Where
You'll receive the exact address after the booking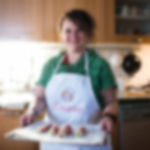 Donatella
Cesarina from 2018
Location: Florence    Languages: Italian and English
Florence, to quote Stendhal, has a "subtle beauty". The city itself is an open-air museum, rich in architectural masterpieces and works of art that are unique in the world. Here in the heart of this historical city in a street of ancient buildings located within where once stood the ancient medieval walls, and where you can experience the flavor of ancient Florentine history, we meet Donatella, our Florentine Cesarina DOC. Donatella studied art and architecture and she likes to experiment with different artistic techniques, from papier-mâché to ceramics, as well as applying her hand to making pasta dough in the kitchen. This last passion she shares with her husband and children, with whom she loves making homemade pasta, a perfect way to teach culinary art while having fun. At Donatella's, there is always a festive feeling and the typical flavors of Tuscan cuisine. Her dishes, from pezzole to carabaccia di Caterina de' Medici, are recipes which have made French cuisine famous the world over but that actually originated in Italy, specifically in Florence and the Medici court. Along with the fork, Caterina de' Medici brought recipes with her to Paris that would eventually become the macarons, omelette, crepes, the "francesina", soupe d'oignons and the bigné. At Donatella's table, we can relive the history of the dishes that traveled from Florence to Paris, as well as enjoy the pleasure of tasting them.
Experiences you may like
FAQ
Families and solo travellers welcome