The goodness of Tuscan cuisine
5.0
Cooking class: learn how to cook Italian recipes and taste the dishes prepared during the class
Your menu
Tuscany starter pecorino cheese,bruschettacrostini
Tagliatelle (homemade pasta) with ragù
Tiramisù
Among the Tuscan hills, a few kilometers from the center of Florence, in an ancient monastery you will have the pleasure of immersing yourself in nature and preparing a traditional Florentine menu.
I will offer you during this experience a Tuscan appetizer composed of crostini, followed as a first course by tagliatelle with meat sauce and to finish in sweetness tiramisu with mascarpone. Everything will be tasted in company and while sipping excellent local wine
Reviews
Cesarine - The goodness of Tuscan cuisine
Spending the day with Antonella and company was an invitation to experience "la dolce vita", or the sweet life. Through captivating conversations, patient culinary instructions, and a general spirit of conviviality, Antonella and "team", her friend and hubby, created a one-of-a-kind opportunity that my heart, soul, and mouth will savor for an eternity. If given the opportunity, I would relish the chance to return the kindness shown to me and my family! Un grandissimo abbraccio <3 La Famiglia Marchetti

Antonella is a superb cook and cooking teacher. My husband, children and grandchildren learned valuable cooking techniques and recipes from Antonella. More importantly, we have FUN and the food we prepared was DELICIOUS! Thank you, Antonella.

Jeanne Marchetti

 - 

June 2023

Fantastic experience The food was great , the cooking was fun And Antonella was an excellent teacher. The area is fabulous and would do this again .we enjoyed every moment .

It was a wonderful cooking class! I highly recommend it as an unforgettable experience when visiting Florence. Antonella welcomed me very warmly in her home, which is a haven of peace on the heights of Florence. She is adorable and welcoming and it was a truly unique experience to learn to cook alongside her. She holds many culinary secrets, inherited from a long family tradition. She transmits them with simplicity and passion. It makes the transfer of its knowledge a hallmark of its region and its products, which is remarkable. The food we prepared together was absolutely delicious, shared with her husband and one of her friends under a gazebo in the sun. It was a very special moment that I will remember for long. Grazie Antonella!

Catherine HELLEGOUARCH

 - 

May 2023

We have been traveling all over Europe and have done many excursions and experiences. Antonella's is one we will always remember and absolutely loved. Being welcomed into her home and cooking the best pasta I have had yet in Italy is something we will share with everyone as we tell our travel stories. Honestly…I can not wait to try and replicate what we made with her at our home. She taught us everything so fingers crossed! Antonella is such a warm and kind person and amazing cook! I'm hoping she comes to California someday so I can welcome her in my home:)❤️❤️

Heather Grimes

 - 

April 2023
€129.00 
per guest
(€64.50 

per child)
€129.00 per guest
€64.50 per child
Where
You'll receive the exact address after the booking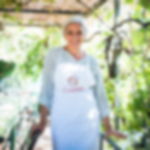 Antonella
Cesarina from 2018
Location: Florence    Languages: Italian and English
Antonella is a Florentine born and bred who (professionally and for fun) loves cooking, using only seasonal ingredients which she usually buys from local farmers. Antonella loves traditional, ethnic and fusion cuisines; she likes sharing experiences and getting to know new people whom she hosts in a stunning location, on the Florentine hills. Here, only a couple miles from the historic center of Florence, in the tranquility of the Tuscan hills, this Cesarina welcomes us. Her house is an ex-monastery from 1200 a.c. which throughout the years was turned into a barn, then a painter's studio, and now an artist's home, where we can savor the flavors of Tuscan cuisine.
Experiences you may like
FAQ
Families and solo travellers welcome