Traditional cooking class in the shadow of the Leaning Tower
5.0
Cooking class: learn how to cook Italian recipes and taste the dishes prepared during the class
Your menu
Cecina
Tripe alla pisana
Torta 'co' bischeri' (short pastry tart filled with a mixture of rice and chocolate)
I'm excited to invite you to my traditional Pisan cooking course, where you'll learn how to cook three of my favorite recipes: cecina, trippa alla pisana, and "torta 'co' bischeri". I'll teach you all the tricks to make delicious and authentic dishes, just like the ones I prepare for my family and friends. I believe that cooking is an art form and a source of joy, and I love sharing my passion with others.
My course will be held in my cozy kitchen in the center of Pisa, just a few steps from the Leaning Tower. I can't wait to share my passion for traditional Pisan cuisine with you!
Reviews
Cesarine - Traditional cooking class in the shadow of the Leaning Tower
Flora and her husband were amazing! So welcoming and great conversation! The food was absolutely amazing! This was my first experience with this and I would highly recommend it to others! Thank you Flora!
€129.00 
per guest
(€64.50 

per child)
€129.00 per guest
€64.50 per child
Where
You'll receive the exact address after the booking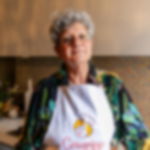 Flora
Cesarina from 2018
Location: Pisa    Languages: Italian and English
When one thinks of the city of Pisa, the iconic monument, the Leaning Tower, immediately comes to mind, as well as the thousands of tourists intent on being photographed in bizarre poses at the foot of the famous monument. In the shadow of the famous tower, there are other treasures to be discovered, including the delicacies prepared by Cesarina Flora, who lives in the heart of this Tuscan city. Starting from an early age, Flora carefully followed her family's culinary preparations and since then has always found in cooking an oasis of serenity, research, knowledge and, above all, a great passion in keeping the local traditions alive. Today she cooks for her numerous friends, creating dishes with new and renewed flavors. She chooses her ingredients with extreme care, insisting that they come from small, highly reputable local businesses. Her table setting is classic and elegant, using treasured dinnerware and hand-embroidered tablecloths. She has an eye for detail, combining colors based on the food she is serving, as well as the floral compositions and small potted plants.
Experiences you may like
FAQ
Families and solo travellers welcome