Love for the culinary tradition of Lucca
5.0
Cooking class: learn how to cook Italian recipes and taste the dishes prepared during the class
Your menu
Bruschetta with tomato
Lucca style tortelli
Traditional tiramisù
The flavors and smells that emanate from traditional Lucchese dishes evoke in me memories of childhood, the cooking of my grandmother who would laughingly prepare and teach me how to cook.
All this leads me to want to pass on this love and knowledge to others, hoping to evoke good feelings in my guests and enjoy excellent dishes that are simple but made with the heart. My dishes reflect simplicity and local tradition, with seasonal ingredients: from the appetizer made with tomato bruschetta, to tordelli alla lucchese, rovelline and to finish an excellent tiramisu or the classic lucchese soup. All in a hilly setting surrounded by greenery, in a house that gives off all the love for nature, home cooking and my family.
Reviews
Cesarine - Love for the culinary tradition of Lucca
We had a fantastic evening with our hostess and family. Would highly recommend this to anyone. We were entertained seeing how an Italian family lives and cooks delicious meals. So much fun helping to prepare our meal. Would definitely go back for another treat. Very gracious hostess and so accommodating. Thank you! Lenny and Janie DeFelice

Lenny and Janie DeFelice

 - 

September 2023

My daughter and I had a wonderful day with Lunia. She met us at the train station in Lucca and took us on a small tour of some of the specialty shops in Lucca where she purchased bread and meats for our aperitivo. We then went to her lovely farmhouse in the Tuscan hills where we spent the next few hours learning how to make an authentic aperitivo, raviolis and tiramisu. Lunia was a wonderful hostess and chef. She welcomed us into her home where her son, Michael, was present and helped with some interpretations but, overall, communication was quite easy. We started the meal with some sparkling wine while helping to roll out pasta and construct the tiramisu. We really enjoyed meeting Lunia and her son, our cooking lesson, and, of course, the delicious meal!! Thank you, Lunia !

We had a wonderful evening with Lunia and her family. Pickup in Lucca worked perfectly and we enjoyed a great menu at her home. We learned how to make pasta and ravioli (where we learned a new technique how to make them!). Secondo (Chicken alla cacciatora) and dessert (Tiramisu) were also excellent. We can highly recommend this experience!

Our family had the most wonderful time with Lunia and her family cooking dinner together, learning her family recipes and eating together with her family. It was everything we wanted in the experience. She did a great job of incorporating my two children (2 yr, 6 yr) in to the cooking making for a very hands on experience. Her cooking space was open and inviting and very clean. The food was amazing as well. This event is highly worth the time and money. The only thing I would point out for other travelers, Lunia lives in a village atop a mountain with quite narrow roads leading to it. If you have a larger vehicle, it is difficult to access.

We had a great experience making traditional italian pasta and tiramisu with Lunia and her family! From a warm welcome to a nice glass of red wine with dinner, pure hospitality.
€129.00 
per guest
(€64.50 

per child)
€129.00 per guest
€64.50 per child
Where
You'll receive the exact address after the booking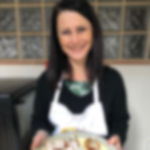 Lunia
Cesarina from 2018
Location: Capannori    Languages: English and Italian
"The passion for cooking and the pleasure of sharing the table with friends have always accompanied me. I live in the hills, immersed in the green of the Tuscan countryside. I like to cook any type of dish, with a predilection for the typical recipes of Lucca that remind me of my childhood; due to some food intolerances of my husband, I became an ace in the preparation of gluten-free dishes."
Experiences you may like
FAQ
Families and solo travellers welcome