Discovering Traditional Roman Cuisine: Maritozzi Menu
5.0
Your menu
The Maritozzo is an iconic symbol of the Eternal City that will captivate your palate and your heart! This delicious comfort food, loved by both young and old, is perfect for any occasion, from children's snacks to nights spent with friends in front of a pastry shop after a great evening out. But if you are looking for a truly unique gastronomic experience, come and discover the secrets of traditional Roman cuisine in my home in Trastevere. Learn how to make Maritozzi not only with cream and powdered sugar, but also savory ones, for a complete menu from appetizer to dessert. Do you want to taste the best of the city in one bite? This soft, leavened bread will make you fall in love! Come and try this unforgettable experience!"
Reviews
Cesarine - Discovering Traditional Roman Cuisine: Maritozzi Menu
We celebrated my wife's birthday cooking with Ofelia in her BEAUTIFUL apartment. We started out by walking to the local farmers market to pick out some fresh ingredients, then went back and started cooking. We quickly felt like family while learning to cook multiple local recipes. All while sipping wine and listening to music. She was so patient with us while we learned how the locals hand make these dishes. I would absolutely recommend this experience to anyone for any occasion! So much fun!

Chris and Melissa

 - 

March 2023
€129.00 per guest
€49.50 per child
Where
You'll receive the exact address after the booking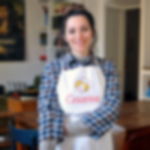 Ofelia
Cesarina from 2022
Location: Rome    Languages: Italian and English
"Hello everyone! Mine is a cuisine that starts above all from traditional family recipes. I was born in Calabria, but mine is a family branched out in cultural and consequently also culinary history. A great-grandmother of a Jewish family married to a great-grandfather an aviator American, another who abandoned dancing with the consuls for a marriage with an intellectual of peasant origins, all united with the Calabrian mountain tradition.From the branch of Jewish origins I took the great love for sweet and sour, for fermented recipes and spicy scents, from the noble branch some recipes that I discovered to be relatives of sometimes Sicilian and sometimes Neapolitan cuisine (from the Kingdom of the two Sicilies:), some that I have never happened to find in other houses. I moved to Rome almost twenty years ago to study and I stayed there, here I also assimilated some recipe books from my partner who is a Roman from Trastevere, making my own super recipes rlatives of the Roman tradition, such as the first classics or the Maritozzi, which I often personalize with fillings that bring me and my guests back to Calabria! "
Experiences you may like
FAQ
Families and solo travellers welcome