Pasta Lovers cooking class in Rome
5.0
Pasta Lovers Cooking class followed by lunch or dinner with the recipes prepared during the class.
Your menu
fettuccine with seasonal vegetables
ravioli with ricotta and aromatic herbs with butter and sage
Amatriciana potato gnocchi
La Cesarina Cristina welcomes its guests in a villa surrounded by greenery with wide outdoor spaces and large windows, where you can admire the garden and ancient olive trees. A little corner of paradise not far from the center of the Eternal City.
During this cooking course you will learn to prepare 3 fresh pasta recipes, in a villa surrounded by greenery with centuries-old olive trees**:** ricotta-filled ravioli, potato gnocchi and fettuccine.
Each participant will have his or her own station and will be actively working, equipped with a gremband and a handout where the recipes will be explained, with ingredients and steps.
At the end of the course you can relax at the table, enjoying the menu prepared together with drinks included (local wine, water and coffee).
Reviews
Cesarine - Pasta Lovers cooking class in Rome
I loved the experience with Cristina. Not only was she an amazing host, she was also very personable and knowledgeable. The food we created was very well explained and I'm confident I could recreate them myself. A superb experience and I would highly recommend this to anyone :) thank you Cristina, I had an amazing morning cooking with you!

Marina Cullen

 - 

February 2023

Cristina was so lovely!! She was warm and welcoming, very easy going! Her place is beautiful and homey. I had the freshest pizza ever! And the Tiramisu was heavenly!! I would 10/10 recommend her.

I would highly recommend a Cesarine class for anyone wanting to learn more about Italian food and cooking. Cristina taught my husband and I how to make Amatriciana, and tiramisu. It was an amazing experience and the food was delicious!!! Cristina is wonderful and friendly, we highly recommend her :) Thank you Cristina!

We had a great experience cooking with Cristina today! The menu for the day was bruschetta, carbonara pasta from scratch and a special twist on tiramisu. I do not have very much cooking experience and Cristina made the entire class fun and easy to learn! My wife has much more cooking experience than I do and has made all three dishes in the past. She was amazed at the different way that Cristina prepared all the dishes and was happy to learn more about the authentic Italian way to prepare all these dishes! The food was magnificent we got to enjoy lunch in her beautiful backyard with prosecco and some of Cristina's homemade liquor and olive oil! We would definitely recommend Cristina to anybody looking for an authentic, fun and delicious Italian cooking class experience from beginner to expert! We will be back to learn how to make pizza and gelato our next trip to Italy!

Gene and Liz

 - 

October 2022

Amazing experience!!! Cristina was so sweet and patient with my husband and I. This was by far the best activity of our honeymoon! The food was delicious and she taught us so much!

Krystle C.

 - 

October 2022
€145.00 per guest
€72.50 per child
Where
You'll receive the exact address after the booking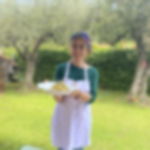 Cristina
Cesarina from 2020
Location: Rome    Languages: English and Italian
Cristina welcomes her guests in a villa surrounded by greenery with large outdoor spaces and large windows, where you can admire the garden and the centuries-old olive trees. A little corner of paradise not far from the center of the Eternal City. "Since my tender age I have always looked with admiration the love with which my grandmother, of Apulian origins, worked for hours in the kitchen. I still remember her hands and her aprons, often soiled with flour and the aroma of 'good things and genuine' that spread throughout the house and enveloped me in a pleasant feeling of well-being."
Experiences you may like
FAQ
Families and solo travellers welcome