Welcome to Torino!
Bringing in produce from the hills, plains and Alpine areas, Turin's cuisine is hearty. Its main characters are butter, cheese, pasta and meats - what's not to love? Learn pasta recipes like 'tarajin' and 'agnolotti di plin', and don't miss 'vitello tonnato', an unusual combination that you'll love recreating at home.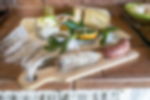 All the experiences
Invisible test block for SSR
We want to create real connections between travellers and locals in Italy.
Our national community of home cooks welcome travellers into their own homes for authentic culinary experiences. With us, you'll discover long-lost family recipes, market-fresh ingredients and unforgettable cooking secrets. This is the most authentic way to learn what Italian food is all about.
Every host in our community is carefully selected for their cooking and hosting excellence, so you're in good hands. Pull up a seat and enjoy a truly Italian welcome.
Meet our hosts