Dining experience: take a seat and enjoy an authentic Italian meal with a local Cesarina
Your menu
The lemon house of Villa Savonarola is located in the Ancient Village of Pian dei Giullari, easily reached in a few minutes' drive from the historic center of Florence or by a long, healthy and fascinating panoramic walk. We look forward to welcoming you to this magical place, where Galileo Galilei studied and observed the stars, for lunch or dinner, weather permitting in the garden to enjoy splendid sunsets and starry skies.
During the dining experience, based on Tuscan recipes, Paolo and I, lovers of art and design, will tell you about our culinary traditions, a bit of history and chat together as among friends in the name of conviviality.
Reviews
There are no reviews yet.
€95.00 per guest
€47.50 per child
Where
You'll receive the exact address after the booking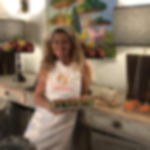 Cristina
Cesarina from 2019
Location: Florence    Languages: Italian and English
Cristina welcomes us to her home in a lemon house, surrounded by greenery, in the old village of Pian dei Giullari, near the ancient home of Galileo Galilei. Our Cesarina, with passion and dedication, takes care of the vegetable garden, respecting the biological cycles of nature and using to cook her dishes only seasonal fruit and vegetables. Since she was young she has always valued the mise en place, following her mother's advice: "you can eat with your eyes too!" Over time she has learned to know and respect the ingredients and raw materials, the real protagonists of her dishes, which she cooks with passion and imagination.
Experiences you may like
FAQ
Families and solo travellers welcome