Cooking class: learn how to cook traditional & innovative Italian recipes from a local Cesarina
Your menu
Italy is not only one of the best eating places in the world, but also the country that holds one of the richest cultural and artistic heritages! Why not have fun discovering them in the kitchen? In an experience that whimsically tells the story of art through dishes that evoke it.
A refined and creative cuisine, but also full of playfulness and irony, all values that Art teaches us!
Reviews
Cesarine - Art&Cooking Menu
The moment we arrived in the home of Ofilia and Leonardo, we felt the warmth of a long friendship as though we had know each other for years. Although The meal was superbly prepared and presented, this evening, for me, was about finding two people a half world away who I will always hold in my heart as wonderful and dear friends. Thank you Ofilia and Leonardo for sharing with us the true hospitality of an Italian family in a way I will never forget. Siamo onorati di incontrarti. Grazie mille.

Shawn Gratz

 - 

September 2023

Ofelia and Leonardo were perfect hosts. The food was the best we had in Rome and we felt welcome in their home like we were old friends. Our time together was the best !

From the beginning until the end, Ophelia welcomed us into her home. Our meal was homemade brushetta (delicious) we got to make our own pasta (delicious) I did not indicate that I do not eat seafood and she was very quick to whip up a pesto sauce for me and my friend. Then we had homemade canneloni and tiramisu. I highly recommend this experience, it was a great day!

Vanessa

 - 

September 2023

We had an absolutely magnificent day with Ofelia. It made our trip to Rome so special. She exceeded our expectations. Everything was perfect. She had prepared special treats for my kids and went the extra mile with them. We also learnt so many great tips from her with making fresh pasta, we will definitely be adding this to our repertoire. It was also the best meal we had in Rome, and her home is straight out of Vogue magazine. We all agree, it was the best day! We will definitely be back! Couldn't recommend this more to anyone considering a unique and personal experience whilst in the hustle and bustle of Rome.

Caroline McDonald

 - 

September 2023

We were met with a warm welcome from Ofelia, she shared her knowledge of the produce within the market, as well as the surrounding family markets within the piazza of Trastereve, Italy. Ofelia's home beamed with personality. I loved it! There was 4 of us, who experienced the preparation & creation of pasta & tiramisu. I'm definitely making pasta at home. We had a lovely time with Ofelia. I highly recommend.
€168.00 
per guest
(€84.00 

per child)
€168.00 per guest
€84.00 per child
Where
You'll receive the exact address after the booking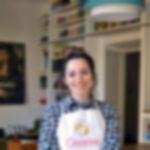 Ofelia
Cesarina from 2022
Location: Rome    Languages: Italian and English
"Hello everyone! Mine is a cuisine that starts above all from traditional family recipes. I was born in Calabria, but mine is a family branched out in cultural and consequently also culinary history. A great-grandmother of a Jewish family married to a great-grandfather an aviator American, another who abandoned dancing with the consuls for a marriage with an intellectual of peasant origins, all united with the Calabrian mountain tradition.From the branch of Jewish origins I took the great love for sweet and sour, for fermented recipes and spicy scents, from the noble branch some recipes that I discovered to be relatives of sometimes Sicilian and sometimes Neapolitan cuisine (from the Kingdom of the two Sicilies:), some that I have never happened to find in other houses. I moved to Rome almost twenty years ago to study and I stayed there, here I also assimilated some recipe books from my partner who is a Roman from Trastevere, making my own super recipes rlatives of the Roman tradition, such as the first classics or the Maritozzi, which I often personalize with fillings that bring me and my guests back to Calabria! "
Experiences you may like
FAQ
Families and solo travellers welcome