One bite of pizza, one of bruschetta and one of tiramisu
5.0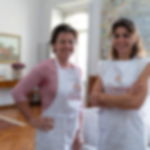 Spoken languages:  English, French, German, Spanish, Italian
Small group hands-on cooking class with pizza and tiramisu, followed by lunch and dinner with the recipes prepared during the class
Shared Experience
In a shared experience, other guests may be added, up to the maximum number of people that the host can accommodate. Therefore you may have the opportunity to share your passion for good food and cooking with other people from all over the world!
Your menu
Bruschetta
Surprise pizza
Tiramisu
Inside a historic house in Parioli, we will introduce you to the century-old tradition of Neapolitan pizza in a home-style version that you can easily recreate in your own kitchen. Beyond the classic Margherita, we will teach you how to make Roman focaccia topped with mortadella and variations of pizza with seasonal ingredients. You'll learn to prepare bruschetta with tomato, olives, and capers, and a classic tiramisù, all served with excellent local wine. Don't miss the chance to uncover all the secrets of pizza making with us!
Reviews
With Valeria and Valentina we reached firs the local market where they told us a lot of interesting things about regional veggies and fruit tha we didn't know. Then we came over to Valeri's apartment - so beautifull and rich in history- where we learnt how to make fresh pasta and tiramisu'. Very enjoing experience. Highly recommend!!

Marteen and Raphael - November 2023

L'éxperience de la cuisine avec Valérie et Valentine a été une formidable surprise. Notre fils aussi a aimé beaucoup tout ce qu'on a préparé. Si vous venez à Rome ne ratez pas une classe de cuisine avec ces deux super dames qui parlent parfaitement français!

Wenji et Fabrice - November 2023

Dear Valentina and Valeria, I don't know how to thank you enough for this evening. We had a beautiful time and best food and it was so different from everything I have experienced in Italy. Highlight of our trip! And I have visited many times. We also followed your suggestions for restaurants next day and were very pleased. Vi aspettiamo in California!!!

Yvette and Michael - November 2023

We made with Valeria and Valentine an exciting cookin class of traditional roman fresh pasta! The experience was amazing and the recipes were a feast for our taste ! Thank you so much for you time and commitment. Highly recommend

Heather - November 2023

What a beautiful experience it was. We had a pleasant evening with Valeria and Valentina eating the best way imaginable. I do suggest to everyone to try a different experience from typical touristy dinners. Thank you!

Riina - November 2023
€129.00 
per guest
(€64.50 

per child)
€129.00 per guest
€64.50 per child
Where
You'll receive the exact address after the booking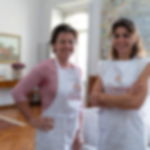 Valeria e Valentina
Cesarina from 2018
Location: Rome    Languages: English, French, German, Spanish, Italian
Parioli is a Roman neighborhood that holds a unique charm. It distinguishes itself by its marvelous buildings and large green areas. This neighborhood offers up so many different facets and after the Second World War it began to get noticed, becoming the hang outplace of famous movie stars, important theater actors and diplomats from all over the world. The history of Parioli is, however, dates back to the Roman period. Later, during the Middle Ages, the neighborhood was known as "Pelaiolo", a peasant term referring the fruit of the pear tree. Valeria and Valentina greet us here in Parioli in their period home. Both lovers of the culinary arts, they have always enjoyed spending lots of time cooking and trying out new recipes, from the past and present. Their dishes are full of the memories and flavors of childhood, and their table setting is elegant and full of colors that vary according to the seasons. Their preparations tend to revolve around baked goods (bread, breadsticks, taralli), all strictly homemade using our Cesarines own sourdough starter and extra virgin olive oil which they also produce themselves.
Experiences you may like
FAQ
Families and solo travellers welcome
What are the best cooking classes in Rome?
What are the best home restaurants in Rome?
What are the best market tours in Rome?