The Florentine Menu of Caterina Dè Medici
5.0
Typical 4-course dining experience (4 course menu starter, pasta, main + side dish and dessert) with aperitivo and cooking demo
Your menu
Pezzole(crespelle) di Caterina de' Medici
Onion soup o tortelletti covered with cheese, sugar and cinnamon,
Mess of meat
Pear tart
Catherine appreciated and carefully preserved the recipes of her homeland, taking them with her to Paris when she became Queen of France.
Today I bring to your table some of the dishes that were served at Catherine's wedding banquet. Interestingly, thanks to Catherine, "glue sauce" was introduced to France, destined to become the ancestor of the famous béchamel. Catherine firmly believed in the aphrodisiac properties of many foods, including thistle, shallots, zucchini, celery, artichoke, mushrooms, broad beans, and onions. Prepare to be amazed by these dishes that will immerse us in the culinary history of Catherine de' Medici and the Renaissance era!
Reviews
Cesarine - The Florentine Menu of Caterina Dè Medici
Donatella, was an amazing host as well as a fantastic chef. We had a great evening of food, wine and conversation. We were able to experience home cooking and cuisine that you can not find in the restaurants. Her home was a great break from the restaurant life. We highly recommend Donatella for a great local experience.

Daron & Kelly

 - 

September 2023

Donatella was an amazing host! We have a large family with 4 kids between 13 and 3, and she made us feel so welcome in her home. When my 3 year old starting getting bored, she gave him tasks to do to keep him occupied. The class itself was so much fun. We loved the authenticity of learning in her home, and the final results were absolutely delicious. It was one of the highlights of our trip for sure and I highly recommend Donatella

Kristin Ciaglia

 - 

July 2023

Donatella welcomed us into her home with open arms and showed us how to make various types of pasta. She was patient and kind. Definitely an experience to remember forever!

Had a great time learning to make Tuscan style pizzas. Yes we made several different pizzas with an incredible crust. The dessert was simple but fresh and fun to learn different ways to make it. She was inviting and informative. Like cooking with my mom in her house. Incredible experience looking forward to making pizza dough when I get home.

Our cooking experience truly was one of our highlights on our visit to Florence. Donatella welcomed us into her home. We learned how to make several types of pasta and one delicious tiramisu. Donatella was very patient and kind. I would definitely recommend this experience to others.

Michael & Isabel

 - 

June 2023
€139.00 
per guest
(€69.40 

per child)
€139.00 per guest
€69.40 per child
Where
You'll receive the exact address after the booking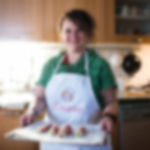 Donatella
Cesarina from 2018
Location: Florence    Languages: Italian and English
Florence, to quote Stendhal, has a "subtle beauty". The city itself is an open-air museum, rich in architectural masterpieces and works of art that are unique in the world. Here in the heart of this historical city in a street of ancient buildings located within where once stood the ancient medieval walls, and where you can experience the flavor of ancient Florentine history, we meet Donatella, our Florentine Cesarina DOC. Donatella studied art and architecture and she likes to experiment with different artistic techniques, from papier-mâché to ceramics, as well as applying her hand to making pasta dough in the kitchen. This last passion she shares with her husband and children, with whom she loves making homemade pasta, a perfect way to teach culinary art while having fun. At Donatella's, there is always a festive feeling and the typical flavors of Tuscan cuisine. Her dishes, from pezzole to carabaccia di Caterina de' Medici, are recipes which have made French cuisine famous the world over but that actually originated in Italy, specifically in Florence and the Medici court. Along with the fork, Caterina de' Medici brought recipes with her to Paris that would eventually become the macarons, omelette, crepes, the "francesina", soupe d'oignons and the bigné. At Donatella's table, we can relive the history of the dishes that traveled from Florence to Paris, as well as enjoy the pleasure of tasting them.
Experiences you may like
FAQ
Families and solo travellers welcome