Tour of a typical local market and cooking class
4.9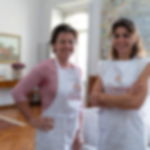 Spoken languages:  English, French, German, Spanish, Italian
Local market tour, hands-on cooking class followed by lunch or dinner with the recipes prepared during the class.
Your menu
Grilled seasonal vegetables with tomatos cappers olives and oregano dressing
Tagliatelle with pecorino cheese and pepper
Tarte with ricotta cheese and sour cherries
Hi dear, with Valentina and Valeria you will discover the typical local market with its seasonal vegetables and fruit, fish and meat, bread and cookies.
We will do the shopping of all we need to prepare at home a delicous meal and have a lot of fun.
Reviews
Cesarine - Tour of a typical local market and cooking class
We had a great experience with Valentina & Valeria. They were gracious hosts and provided great cooking tips & tricks to take home. Their home was beautiful and they even gave us plenty of insight into the rest of our travels for the trip! Overall, it was a wonderful experience in Rome - we would recommend the experience to others. They should be aware that it is not a very intensive experience, but a more leisurely time full of good conversation and wonderful food!

Kelli & Louise

 - 

March 2023

Our hosts were the best. They were welcoming, answered all our questions, patient with us and treated us like apart of their family. I would definitely recommend valeria e valentina again and again. That's how awesome they were. We were running late and they waited on us and never complain or made us feel rushed. This was the best experience my family had in Rome. We absolutely loved the whole experience and the market visit was awesome too.

We spent a lovely evening cooking together with Valeria and Valentina. They are both very kind and welcoming and gave us many special tips. And of course the food was delicious! Thank you very much, we highly recommend this.

Hendrike and Friedrich

 - 

February 2023

We had the most amazing experience with Valeria and Valentina! We booked a market tour and vegetarian cooking class for our family of two adults and two kids, 12 and 14. Valeria and Valentina were warm and welcoming from the start. We enjoyed learning about all of the local produce at the market, and were then treated to hospitality and a cooking class in Valeria's home. They were both engaging and kind, they involved the kids in every stage with instruction and patience. And of course, everything was delicious! It was like cooking a meal together with friends. It was the highlight of our time in Rome, and we'd recommend it to everyone.

We highly recommend the Apertivo Class we took with Valeria and Valentina. We flew into Rome earlier that day with major jet lag and were so kind and caring, it was the perfect experience for that day. It was like visiting the home of a good friend. And oh yeah, the food and drinks were the perfect way to start our Mediterranean adventure! So delicious!!
€189.00 per guest
€94.50 per child
Where
You'll receive the exact address after the booking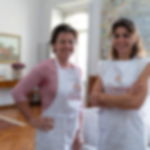 Valeria e Valentina
Cesarina from 2018
Location: Rome    Languages: English, French, German, Spanish, Italian
Parioli is a Roman neighborhood that holds a unique charm. It distinguishes itself by its marvelous buildings and large green areas. This neighborhood offers up so many different facets and after the Second World War it began to get noticed, becoming the hang outplace of famous movie stars, important theater actors and diplomats from all over the world. The history of Parioli is, however, dates back to the Roman period. Later, during the Middle Ages, the neighborhood was known as "Pelaiolo", a peasant term referring the fruit of the pear tree. Valeria and Valentina greet us here in Parioli in their period home. Both lovers of the culinary arts, they have always enjoyed spending lots of time cooking and trying out new recipes, from the past and present. Their dishes are full of the memories and flavors of childhood, and their table setting is elegant and full of colors that vary according to the seasons. Their preparations tend to revolve around baked goods (bread, breadsticks, taralli), all strictly homemade using our Cesarines own sourdough starter and extra virgin olive oil which they also produce themselves.
Experiences you may like
FAQ
Families and solo travellers welcome