Your menu
The first date at home is always an exciting moment that can give you some little stress.
Woo someone with good cooking is a very good start, but plan a simple and tasty meal having enought time to organize your romantic encounter, can put you in trouble especially if you are not sure about your culinary skills.
With this cooking class you can learn to cook in a easy and funny way allowing yourself to sped relaxing moments with your guest.
Starter:
Ground beef with Grana Padano or vegetable flan with fondue
First dish:
Risotto with seasonal vegetables
Main course:
Pork loin with seasonal fruits
Reviews
There are no reviews yet.
€150.00 per guest
€75.00 per child
Where
You'll receive the exact address after the booking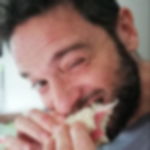 Giuseppe
Cesarina from 2021
Location: La Loggia    Languages: English and Italian
"I spent the last years around the world, among new adventures and with the mission of discovering, savoring the kitchen of my home. I then returned to the house where I grew up, where I live together with my future wife. I love home cooking and cooking for people."
Experiences you may like
FAQ
Families and solo travellers welcome