Cooking class with 2 fresh pasta recipes and tiramisu
5.0
Small Group hands-on cooking class with 2 pasta recipes and tiramisù followed by an Italian aperitivo and lunch or dinner with the dishes prepared during the class
Shared Experience
In a shared experience, other guests may be added, up to the maximum number of people that the host can accommodate. Therefore you may have the opportunity to share your passion for good food and cooking with other people from all over the world!
Your menu
Ravioli with thyme
Spaghetti or fettuccine
Tiramisù
We will learn how to make two types of Italian pasta and a classic Italian dessert.
We will make ravioli filled with fresh ricotta and then spaghetti alla chitarra or fettuccine. For dessert, we will prepare an excellent tiramisu. The class is a good opportunity to discuss food, special ingredients such as ancient grains, and our lifestyle.
Reviews
Carlo was a fantastic host. Our goal in taking his class was to experience the real Italy, to get a sense of what it would be like to live there and enjoy delicious, home cooked meals. Carlo delivered on all fronts. His pasta is truly outstanding, and conversation is equally as enjoyable. We really appreciated how at home he made us feel, and how precise he was about his cooking. We are experienced home cooks and still learned so much. Thank you again, Carlo, for a wonderful evening of good wine, good food, and good conversation.

KK - December 2023

We had an amazing time cooking with Carlo. It was great to experience an authentic meal in his beautiful home. He taught us how to make the best tiramisu we've ever had. Carlo was so knowledgeable and you can tell puts a lot of love into his cooking. Book the class, it will be a memory we will never forget. Thank you Carlo!

Farah - November 2023

I was like so much my class about pasta and tiramissu with chef Carlo. He is very carismatic and receptive, explaing aboute italian food culture and use technics, ingredients and Mode of preparing italian food in your house. Anyway, it's excelent experience for you will know about more culture and gastronomy italian. Thanks you so much for today. See you

Jéssica Rausch  - November 2023

Carlo was a wonderful host, very kind and welcoming to his guests. He spoke impeccable English and was patient and thorough with his explanations of the pasta making process and also the history of the dishes we prepared. The location was easy to find and our host also provided excellent directions on how to walk back to our hotel. We had an amazing night and highly recommend you book with Carlo for an authentic Italian cooking experience! 10/10 A+ fabulous wonderful would book again

Michael M (USA) - October 2023

Carlo exceeded our expectations and was the perfect instructor and host today. He was a wealth of culinary knowledge and a gentleman to us. Our only regret is that we had to say goodbye to this wonderful man.

Joseph Albano and Lynne Albano - October 2023
€179.00 
per guest
(€89.50 

per child)
€179.00 per guest
€89.50 per child
Where
You'll receive the exact address after the booking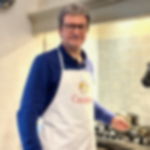 Carlo
Cesarina from 2021
Location: Florence    Languages: English and Italian
"I love good food and I have been cooking for a lifetime! For years, I have also been dedicated to the search for cuisine that is not only delicious but also health-conscious: low-cholesterol and low-sugar desserts, and homemade pasta made with stone-ground flours from small mills... In many cases, it is possible to cook great dishes with local ingredients, without compromising on health." However, this should not be an excuse for creating mediocre dishes: if they are not good, it's pointless for them to be healthy!
Experiences you may like
FAQ
Families and solo travellers welcome
What are the best cooking classes in Florence?
What are the best home restaurants in Florence?
What are the best market tours in Florence?