In Bologna to learn the rules of perfect pasta dough!
5.0
Small Group hands-on cooking class with 2 pasta recipes and tiramisù followed by an Italian aperitivo and lunch or dinner with the dishes prepared during the class
Shared Experience
In a shared experience, other guests may be added, up to the maximum number of people that the host can accommodate. Therefore you may have the opportunity to share your passion for good food and cooking with other people from all over the world!
Your menu
Lasagna radicchio e stracchino
Tagliatelle (homemade pasta) with ragù
Tiramisu
I await you in the pulsating heart of Bolognese history and culture, in a part of the city center adored by both locals and tourists. The culinary experience I propose begins with a warm welcome: an aperitif to break the ice. Upon your arrival, you will be able to taste a selection of Parmigiano Reggiano accompanied by balsamic vinegar, to get closer to the authentic flavors of our land. During the cooking course, I will teach you the seven golden rules for preparing perfect pasta dough. Together we will learn how to create delicious lasagna with radicchio and stracchino, giving a creamy and light variant to the traditional baked lasagna recipe. Certainly, there will be tagliatelle, another pillar of our cuisine. And to finish another classic: tiramisu!
Reviews
Oriana è una donna miracolosa e una cuoca perfetta. Per quanto riguarda il cibo, la lezione più importante che ho imparato è che non è il sale a dare gusto al cibo, ma gli ingredienti freschi e di buona qualità, ma anche cucinare con piacere e gioia! Oriana, sono così felice di averti incontrata, sei meravigliosa! Propongo di fare il tiramisù nei prossimi giorni! Ho ancora un po' paura dell'impasto, ma prometto che farò anche la pasta! Ti abbraccio teneramente, Marina!💓🤗

Marina Magdalena Elena Stancu  - November 2023

I booked this class with Oriana as part of a father-son Italy trip. Oriana gave us such a warm welcome into her home. We spent some time talking before diving into the pasta making class. Oriana is a very positive person and always wanted to make sure we were enjoying the experience. She also served us wine and appetizers while the dough was resting. We learned so much from Oriana and had an amazing experience. We made tagliatelle, pappardelle, and tortelloni, which we enjoyed for luch. Oriana made different sauces for each type of pasta, and everything was so delicious. This is a great way to spend a few hours to gain a deeper understanding of local Bologna food and culture, all while having a great time together and a lot of laughs. I highly recommend Oriana and look forward to taking another class with her during our next trip!

Ross - November 2023

Oriana was such a delight! My daughter and I had a great time in her lovely home learning to make the beloved dishes of Bologna.

Beth Humphrey - October 2023

Oriana was amazing. This was an incredible experience and we highly recommend this program and her to all coming to Bologna.

Shal and Matt - September 2023

A truly wonderful experience!! Oriana was a gracious and knowledgeable hostess We rolled pasta, filled ravioli and whipped up taramisu. Along the way Oriana shared wine and stories with us. Just a wonderful evening with a wonderful lady!

Bob and Alicia and family - August 2023
€129.00 
per guest
(€64.50 

per child)
€129.00 per guest
€64.50 per child
Where
You'll receive the exact address after the booking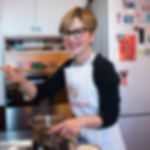 Oriana
Cesarina from 2018
Location: Bologna    Languages: Italian and English
Oriana, our Cesarina, lives within walking distance of one of the most historically rich and picturesque places in Bologna, the Basilica di Santo Stefano. Here, in one of the most beloved areas of the historic town, by both Bolognese and tourists, Oriana introduces us to her family: Salvatore, her husband, and their four children that they love to pamper by cooking them healthy meals, while passing on the family recipes. Oriana is originally from Naples, but living in Bologna, she has learned how to make sfoglia, the typical local pasta, and ragù alla Bolognese. She delights in choosing the best cuts of meat to prepare her excellent bollito, or boiled meat, and for the smallest of her daughters, a lover of tortellini, she cooks this local pasta strictly in meat broth.
Experiences you may like
FAQ
Families and solo travellers welcome
What are the best cooking classes in Bologna?
What are the best home restaurants in Bologna?
What are the best market tours in Bologna?