Risotto, Grandma's rolls and Tiramisu
5.0
Cooking class followed by lunch or dinner with the recipes prepared during the class.
Your menu
Risotto
Grandma rolls
Tiramisù (a chilled dessert made with coffee, lady fingers and mascarpone cheese)
First of all, we will prepare risotto with seasonable vegetables.
Together with pasta, risotto is a cornerstone of Italian cuisine, and learning to make a good risotto is a key point for chefs.
After the risotto we will continue with Grandma rolls: these are the turkey rolls that my grandmother used to make me when I came back from a trip. To me, the turkey rolls, with their cheese gravy, smell like home!
Last but not least Tiramisù: the king of Italian desserts.
Reviews
Cesarine - Risotto, Grandma's rolls and Tiramisu
Carlo was AWESOME. Great job coordinating our arrival, even assisting with setting up local taxi app. Great job getting our "reluctant" teenagers involved, learned a ton about ravioli and tiramisu, and fabulous conversation, all while making an awesome memory! Definitely you should do this experience during your trip to Florence! Carlo was awesome!

What such an enjoyable cooking lesson ! Thank you so much Carlo It was a nice time learning about Italian pasta and chatting from Florence to Périgueux , from Bogota to Boston All the best

My husband and I thoroughly enjoyed our experience with Carlo. He was very kind, knowledgeable and welcoming! We learnt a lot about authentic Italian pasta and enjoyed the experience of making ravioli. He even paired our pasta with a delicious red wine. We would recommend Carlo to anyone in Florence wanting to experience pasta making!
€129.00 per guest
€64.50 per child
Where
You'll receive the exact address after the booking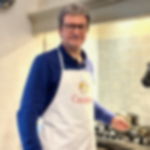 Carlo
Cesarina from 2021
Location: Florence    Languages: English and Italian
"I love good food and I have been cooking for a lifetime! For years, I have also been dedicated to the search for cuisine that is not only delicious but also health-conscious: low-cholesterol and low-sugar desserts, and homemade pasta made with stone-ground flours from small mills... In many cases, it is possible to cook great dishes with local ingredients, without compromising on health." However, this should not be an excuse for creating mediocre dishes: if they are not good, it's pointless for them to be healthy!
Experiences you may like
FAQ
Families and solo travellers welcome